Hey everyone – Happy New Year! I hope everyone had a wonderful holiday break. (I'm a little bummed it ended so quickly… 😆) Lot's of interesting news on our end so let's get to it!
The GROVE Kickstarter campaign went extremely well! We had almost 2500 backers and we're thankful for every one of them. We also have a ton of licensing partners for this one and we're really excited to get these printed up and out to backers. The Gamefound Pledge Manager is still open and we'll be taking orders at least for the next few months. Our licensing partners are finalizing their translations and we expect to start printing in full after the Chinese New Year. Go check out the pledge manager and get a copy!
Elements of the Gods: Production is wrapping up – the last update was that they were fixing a few issues with some of the printed cards as well as assembling the final monuments. (We didn't realize that those were done by hand! No wonder it was taking some time. 😅) It looks like things will wrap up this month and we'll get the games on their way to the various fulfillment centers soon!
Maquis: Fulfillment has pretty much wrapped up! Our French partner expects to start sending out their versions to backers soon and that should be the last of them. There were also some lost copies that went to New Zealand that are getting resent as we speak from Aetherworks. If you haven't received it yet there's a good chance that your package got lost or you missed the pledge manager. Feel free to send us an email and we'll look into it.
Mechanical Beast: We're still working hard on this one. Our licensing partners are wrapping up their translations this month. We're also getting the production proof put together. We did have some issues with the file formats that we're going back and addressing but those should be fixed this week. We're still likely looking closer to March 2022 for fulfillment but all things considered not too bad of a schedule slip.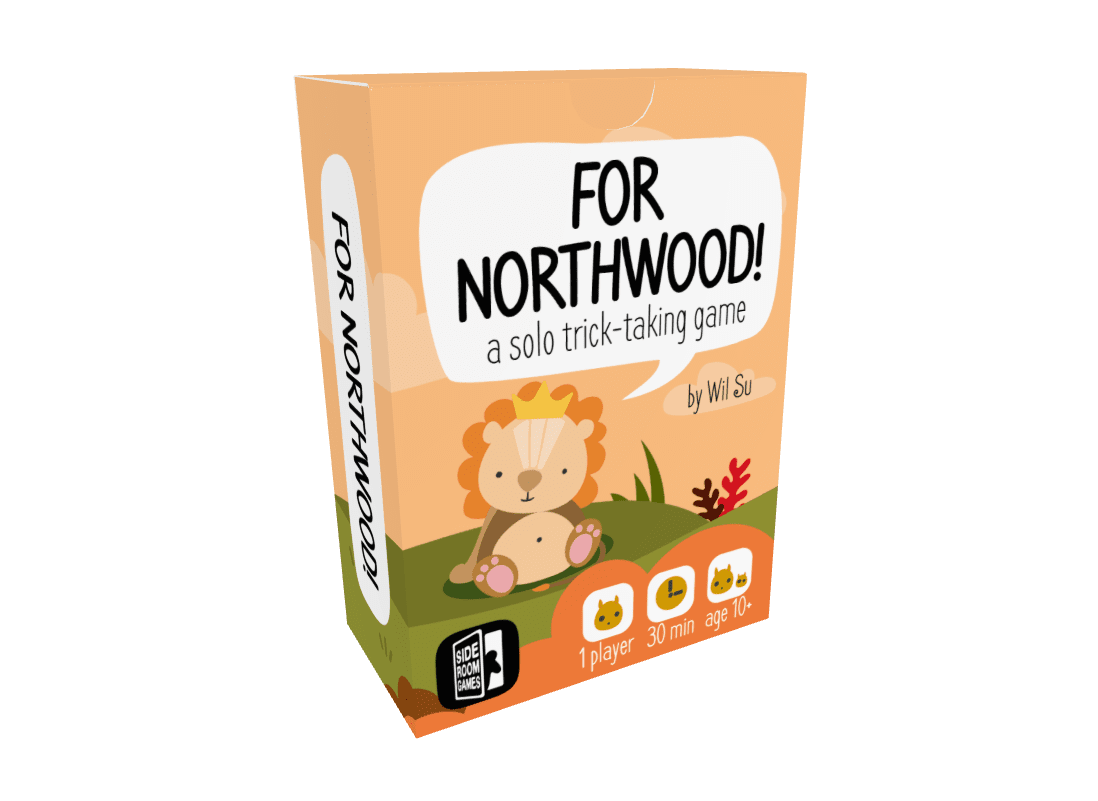 And we're happy to announce that For Northwood is the next game coming! We're looking at March for a launch date so stay tuned for more details as they come. In case you're not familiar with the game, it's the overall winner from the 2021 54 Card Game Design Contest on BoardGameGeek and we instantly fell in love with it. The solo trick-taking game play is a unique experience and the replayability and scalability for difficulty really makes this one shine. And, for a little bit of a preview, our summer project is going to be Village Builder – still TBD on the launch date but we have some time. 😋
We're planning on one more project for the second half of 2022 but that's still in discussion. Some great options are on the table so you'll just have to keep an eye out for announcements!
Also, in case you hadn't seen, the 2022 54 Card Game Design Contest on BoardGameGeek is underway! If you've ever wanted to design a game, or just test out & give feedback to up and coming designs, now is your chance. Some great games have come from this contest, both published by us and picked up by other publishers. It's always fun to see some of these new designs really blossom into fantastic games so go check it out!
Finally, we want to spread some love to another creator! Daniel Zulauf is launching his game, Temerity, on Kickstarter soon. This one was an entry in the same 54 Card Contest as For Northwood and was one of my personal favorites. It's a really tight 2-player duel that has grown from a really cool idea to a fantastic finished product. Here's the BGG Entry for it if you're looking for more info. I believe the planned launch date is next week so sign up to get notified – we'll be a day one backer for sure!
As always, if you have any questions or issues feel free to drop us a line through our social media outlets or send us an email at support@sideroomgames.com. Until next time!
The SRG Team