Hey everyone! Wanted to give folks an update on a few fronts, including some changes to our current Kickstarter campaign & statuses on our current & future projects. Let's roll!
Elements of the Gods – Kickstarter Exclusive!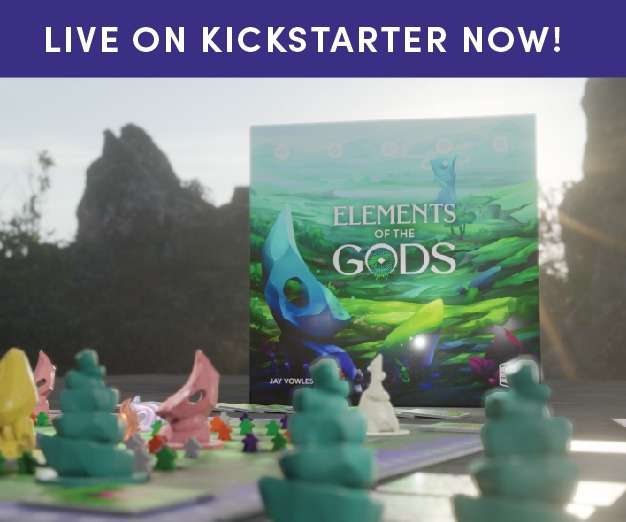 Two significant things we wanted to let you know about in regards to Elements of the Gods. First, we've decided to do our best to help supplement some of the shipping costs for backers so we're decreasing our planned prices for fulfillment. Take a look at the shipping section on the campaign page for specific costs for your area. We've also lowered the additional amount needed if you're looking for multiple copies or a group buy.
Secondly, we're also making this game a Kickstarter Exclusive, our first at Side Room Games. This means that the game won't see a larger distribution for the English version and only retailers who back will be able to have it in stores in a limited quantity. Any leftover copies after fulfillment will only be available on our site at the planned MSRP of $60.
Also, here's an update on some of our ongoing projects:
Black Sonata & The Fair Youth:  For European backers, the games did finally make it to Collext and went out the first week of November! If you hadn't seen any of the comments on the KS page, for some reason the unloading process at the port took way longer than expected; the ship arrived 7 October, so almost 3 weeks! 🙁 It sounded like the port is really busy right now (Brexit panic!?!? :-/ ). So games are on their way and folks in the UK & Ireland have already seen them come in. I'm really hoping that other countries start receiving this week and I appreciate everyone's patience on this!
Fallen Angels:  The bulk of fulfillment is complete and games are on their way to backers. I do know there have been some sleight delays since it's a busy time of the year for shipments combined with challenges brought on by the pandemic. The last subset of games that are going to folks in Europe who ordered multiple copies + some specific countries where it made sense to send from the EU rather than China are on their way to the UK. Hopefully they'll get there around the end of the month & Collext will get them out shortly thereafter. So surprisingly smooth sailing. 😀
Orchard:  The latest print run just completed and included versions in Spanish (Melmac Games), Italian (GateOnGames), Chinese (Treetato Games), French (ABi Games), German (Board Game Circus), Dutch (Gam'inBIZ), Japanese/Thai (Mr. Dexker), and Korean (Lotus Frog Games). We also partnered with guf in Australia and GigaMech Games in the US for special English versions in those regions. So, if you're looking for another copy for you or a friend, there are lots of options headed your way. 🙂
Maquis: We finally have some exciting news… We are in the works with Jake, the designer, and Ilya, the artist to put together a small expansion for Maquis! The expansion will contain 4 extra-hard missions with different objectives & levels of victory. We'll also have some new safe houses & resources to support these newer missions as well as the original missions. The current plan is to have things ready to go for an expansion & reprint campaign in early 2021 – currently looking at late January/early February but still working the timing. The plan is to do something similar to what we did with Black Sonata & The Fair Youth expansion. This expansion will be a little smaller in size so that should also keep the price down for backers. 🙂 As we get more details we'll let folks know!
Also, if you're interested in designing a game or just want to check out some cool ones in development, our 2021 54 Card Game Design Contest is live on BoardGameGeek. Some of them are looking amazing so far. Definitely check them out, give them a playtest (easy print & play builds :D), and provide some feedback. And, if you have a design that's been tinkering around in your head you should definitely get it down on paper & get it entered!
As always, if you have any questions or issues feel free to drop us a line through our social media outlets or send us an email at support@sideroomgames.com. Until next time!
Dustin